No sales pitch here...if you know Toller Cranston, you'll be pretty interested in this painting.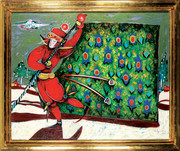 This piece came from Toller's estate in Mexico with the typical heavy gold leaf hand made frame he used during this era of his painting. It's 42 x 48 in dimension plus the frame, a nice over the fireplace size. I'm hoping to sell it before Christmas. $3500.
I can get a gallery appraisal for insurance. I can even show you how much similar paintings have sold for and what the real value is. It's a 9k dollar painting. As an immediate comparable, here is a similar but much smaller 12 x 12 painting that sold for $3300 at an auction in Toronto two years ago....
https://www.waddingtons.ca/auction/o...allery/lot/19/
I want to pay off a kid's Tuba as a secret santa present and there happens to be $3600 owing. I can do it anyway but I like the idea of creating the money and using it for this other purpose. I also want someone to get a good deal. No harm in either of those things..